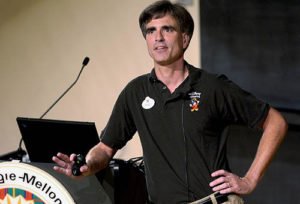 Randy Pausch, the professor who wrote about living well and dying of pancreatic cancer in a "last lecture" that became a national sensation, has died at 47.
It must be true that only the good die young and that the better person you are, the shorter your life. At least, that's the way it seems to be.
Randolph Frederick Pausch was just a man. But he understood better than many of us what true living is all about. He embraced life, and then he embraced death. He believed that his last journey was perhaps his most important one.
He said he was not unique. Maybe not. But his joie de vivre was not the norm in a world focused on self interest and personal gain. Randy Pausch was at least a human being who understood the possibilities of positive thinking, and then tried to live his life accordingly.
His motivation in writing and then reciting his "last lecture" was to leave a legacy for his children. In the end, he left the rest of us a life we can emulate.